Once upon a time there was a great war that brought so much sadness to so many people, hardly anyone could remember what happiness was like. But something happened that changed all that. It helped us to believe in the good things, the fun things, and a world full of imagination. And then just like a tap you turned on happiness came pouring out.

Nou/Olive to Billy Moon, in the movie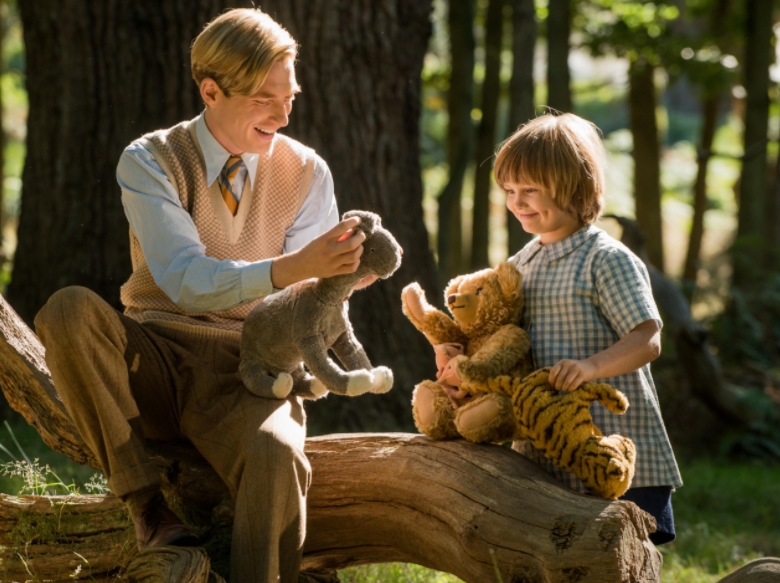 Goodbye Christopher Robin is based on the true story of A.A. Milne and his son Billy Moon (aka Christopher Robin, but no one in the family calls him that), and the circumstances surrounding how Winnie the Pooh as well as Christopher Robin the character were created.
Milne, you see, witnessed the horrors of The Great War, and, being very disillusioned by it, intends to write some anti-war/pacifist piece. But popping back onto the noisy, busy London stage as a notable playwright is not really helping him to go back to "normal." Problems of the spirit needs some peace and quiet to resolve. So he moves his family – his wife Daphne, who doesn't quite understand what he's going through (and it's hard to see her even trying) as well as his young son Billy Moon, who he's never quite bonded with – to a country home.
This said countryside features a lot of woods, bees, a bridge across a stream, and even – a bear.
/ Trailer /
/ Tech Specs /
Directed by Simon Curtis (1999 BBC's David Copperfield, 2007 BBC's Cranford, Woman in Gold)
Script by Frank Cottrell-Boyce and Simon Vaughan
Starring Domhnall Gleeson, Margot Robbie, Kelly Macdonald
Genre: British biographical drama/biopic
Industry Content Rating: PG
/ Review /
Confession time: I've never actually read Winnie the Pooh books – probably because I've never heard raving amazing reviews about them (nothing negative either, for that matter). I've seen images from the cartoon, and funny enough, my AP Economics teacher presented the following inspirational quote for exam prep.
After seeing this movie, I want to. 🙂 So I can understand all the references.
I favor movies spotlighting authors. Call it quirky, but I like to be able to peak behind the curtain and glimpse their creative process and what inspired them to write. This is what interested me to watch Goodbye Christopher Robin (other than, say, seeing General Hux as a pacifist author 😀 ).
Fantastic acting, beautiful scenery (featuring the actual Pooh forest!), with an in-depth look at the importance of parenting and responsibility (especially the lack thereof, but not in an unredemptive way) grace this film. It's hard for me to say much else except that this is rather slow going (yes, even for me :), so it requires patience for the story to fold out, and those who favor only thrilling action or the constantly dramatic may not be wholly satisfied. But rest assured, for those who are willing to take the scenic round, this is a bittersweet yet wondrous ride.
*** Spoilers below to highlight some of my favorite moments***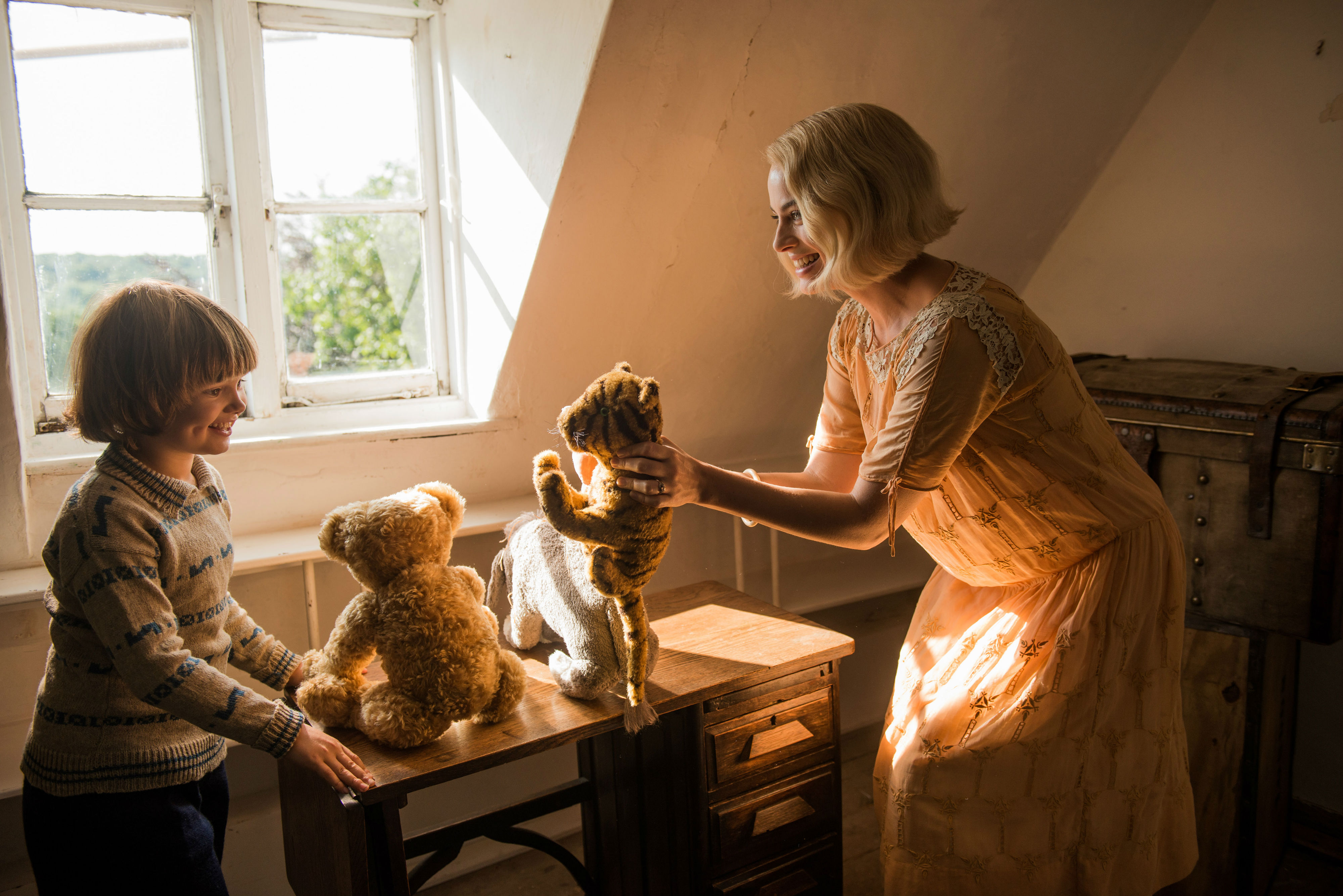 Unconditional love is shown positively and negatively towards Billy Moon. His nurse Nou clearly cares for him daily until she leaves because she couldn't agree with his parents pushing him to the public spotlight. Daphne/Mrs. Milne, however, is gone off to the city until Milne publishes something. She also appears to value Christopher Robin's fame more than Billy Moon. Yet in her own way, which as the audience I never quite figured out, she still loves her son (by the way, she always wanted a girl and have even complained of this after Billy's born) – she did give him Teddy Bear – and decides to push away from him before he enlists during WWII. Looks quite counterproductive yet it is realistic and I've known people who've done this. Really goes to show what a mother should be to her son.
You know, the marvelous thing about the war is that there are lots of marvelous woman around like you who are never going to get married because there are no men, so you can take on work like this.

Daphne Milne to Nou/Olive/Billy's Nurse, in the movie
He has to know he's important to someone. That someone cares about him.

Nou/Olive/Nurse to Billy, in the movie
It's lovely to see a father who struggles with war trauma trying to bond with his boy in a forest. It heals him. Then he writes the Winnie stories and then WWII happens and then his boy finds out the stories helped healed them in the war too. And although Billy Moon had to suffer much for his childhood fame (due to his father's publication of those stories) in the public eye as well as at boarding school, he reconciles with his father. Such a sacrifice for such a cause.
"What? Not written it? No. You reminded people what happiness was… what childhood could be when everything else was broken."

"But your own childhood–"

"–Was wonderful. It was growing up that was hard."

"Who would have guessed that bear would swallow us up?"

"Exactly. This was all ours, wasn't it? Before it was anyone else's."

"Yes. And it always will be."

Billy Moon to his father/Milne, in the movie
Ratings in a Glimpse:
Entertainment Value: 4 of 5
Aesthetic Quality: 5 of 5

Story: 3.75 of 5
Characters: 4 of 5
Acting: 5 of 5
Visuals: 5 of 5

Content:

Sexual: None, unless you count a married couple kissing
Language: Light and rare
Violence: Light – some WWI imagery

Morality: 4 of 5
Recommended?

Yes. Discussion points for the family include responsible vs. irresponsible parents, trauma (war, PTSD), familial love, father-son and mother-son relationships, bullying, fame (esp. young/children), estrangement
Overall Conclusion: 4.5 of 5 ~ Quiet, Scenic, Bittersweet, Full of Wonder, with loving emphasis on Family
Thanks for reading!
Have you seen this movie? What do you think of it? Do you have any favorite Winnie quotes to share? I'd love to talk it over with you or hear any other comments/questions you may have.